One Year Later - Nike Epic React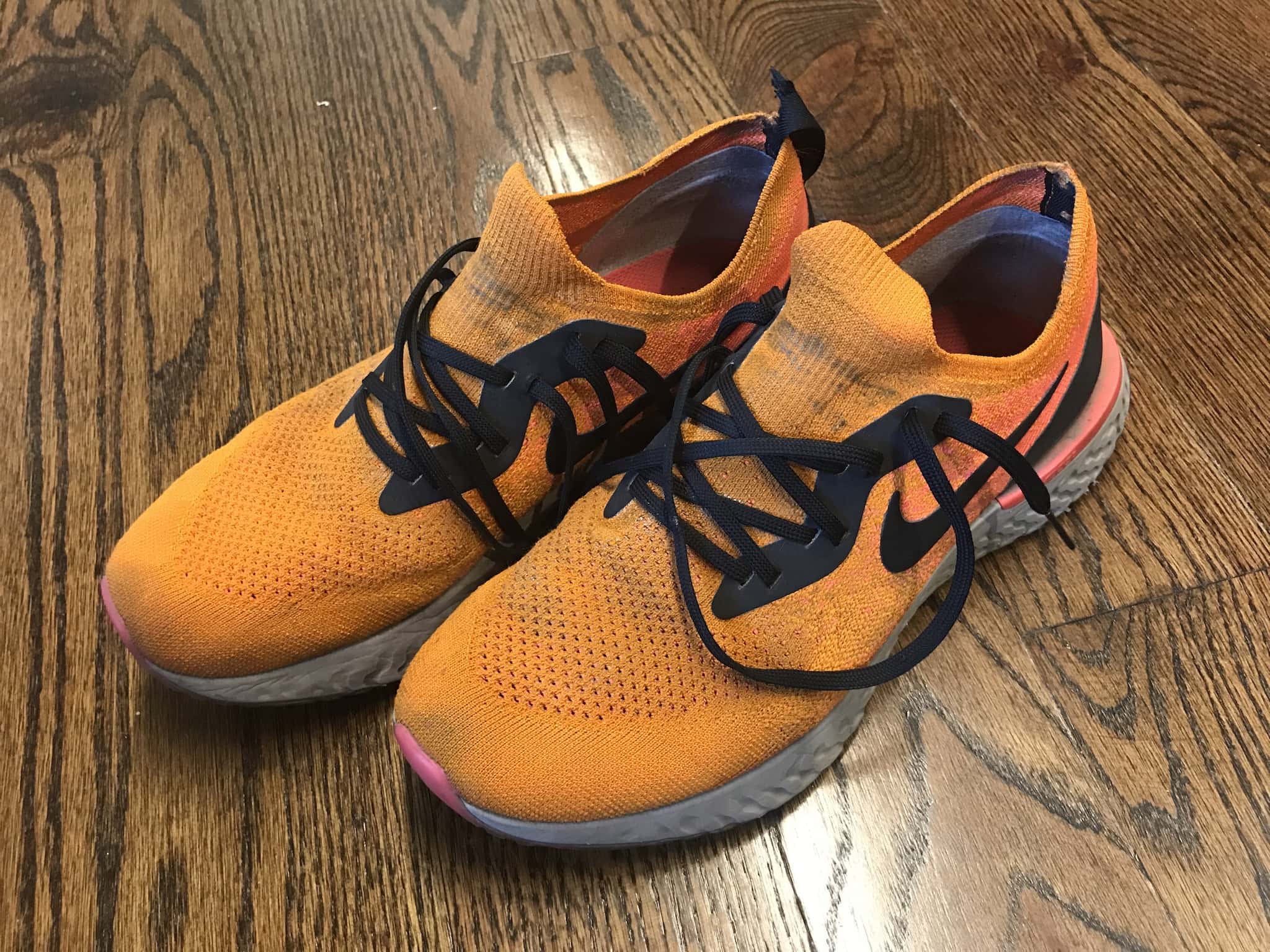 This is the first entry of my "One year later (ish)" reviews. Most running shoe reviews are written soon before or after a shoe release date. This is great, I often, if not always, want to know more about new running shoes as soon as possible. I want to focus on something slightly different here, what my review for a pair is, after actually using them for a while, and seeing how they compare with other shoes I run with over time.
This first entry is about one of my favorite pairs of 2019, and probably of all times (spoiler, sorry), the Nike Epic React Flyknit 1.
I'm starting this series with a lie, I did not get this pair a year ago, but almost though, I bought it in February 2019, which happened to be about a year after its initial release date. This allowed me to find a great clearance deal and get a pair for less than $90. Who doesn't love a good bargain?
The Nike Epic React is among the most durable shoes I've ever ran in. I'm closing in on 900 miles, and while they definitely show signs of wear, they are far from falling apart. The picture above was taken at the time of this writing. For a shoe that can be found on sale for less than $100, this is probably the most valuable shoe I've ever owned. Beyond the value proposition, this is a really comfortable shoe that also provides a good amount of support, making it a perfect daily running shoe.
I remember how intense the marketing push was from Nike. So intense that I wonder how I resisted buying a pair at the time. It often feels pretty sketchy to me whenever a brand spends that much money on marketing, and given how underwhelming the recent Joyride Flyknit shoe was, it shows that the correlation between money spent on marketing and quality is definitely not to always be trusted.
Most of the running shoes I bought in the last four years or so, when I started running, have been Nikes. We're talking about 20+ pairs here. The reason I keep on buying Nike shoes is as simple as it gets, I've been pretty happy with all the ones I've had. If it ain't broke don't fix it! The Structure 20 was incredibly durable, and provided good support, so durable that I even bought a second pair, a first for me. The Pegasus 35 is a solid shoe, it did not impress me, but definitely gets the job done. The Pegasus 35 shield is amazing for rainy or snowy days. The Pegasus Turbo is great for fast workout days, the energy return is not nearly as impressive as advertised, but still, I like the shoe, and used it a lot. I absolutely loved the first Zoom Fly, and ended up retiring it a few miles short of 1,000. The React Odyssey has been my go to shoe whenever I wanted a comfy, snug, fit, as well as my favorite shoe for treadmill runs.
All of that to say that the bar was quite high. And yet, the Epic React still managed to find its way to my top three shoes of all times. Let's dive right in.
Sole
This is the first Nike shoe to use the React foam. My first experience with React was with the Odyssey, so I knew what to expect, and knew I already liked it. And in that regard, the outsole of the Epic felt very similar to the Odyssey. Plush, soft, but not too soft. It doesn't feel like the shoe sinks on each stride, but it still feels like it absorbs a lot of the impact.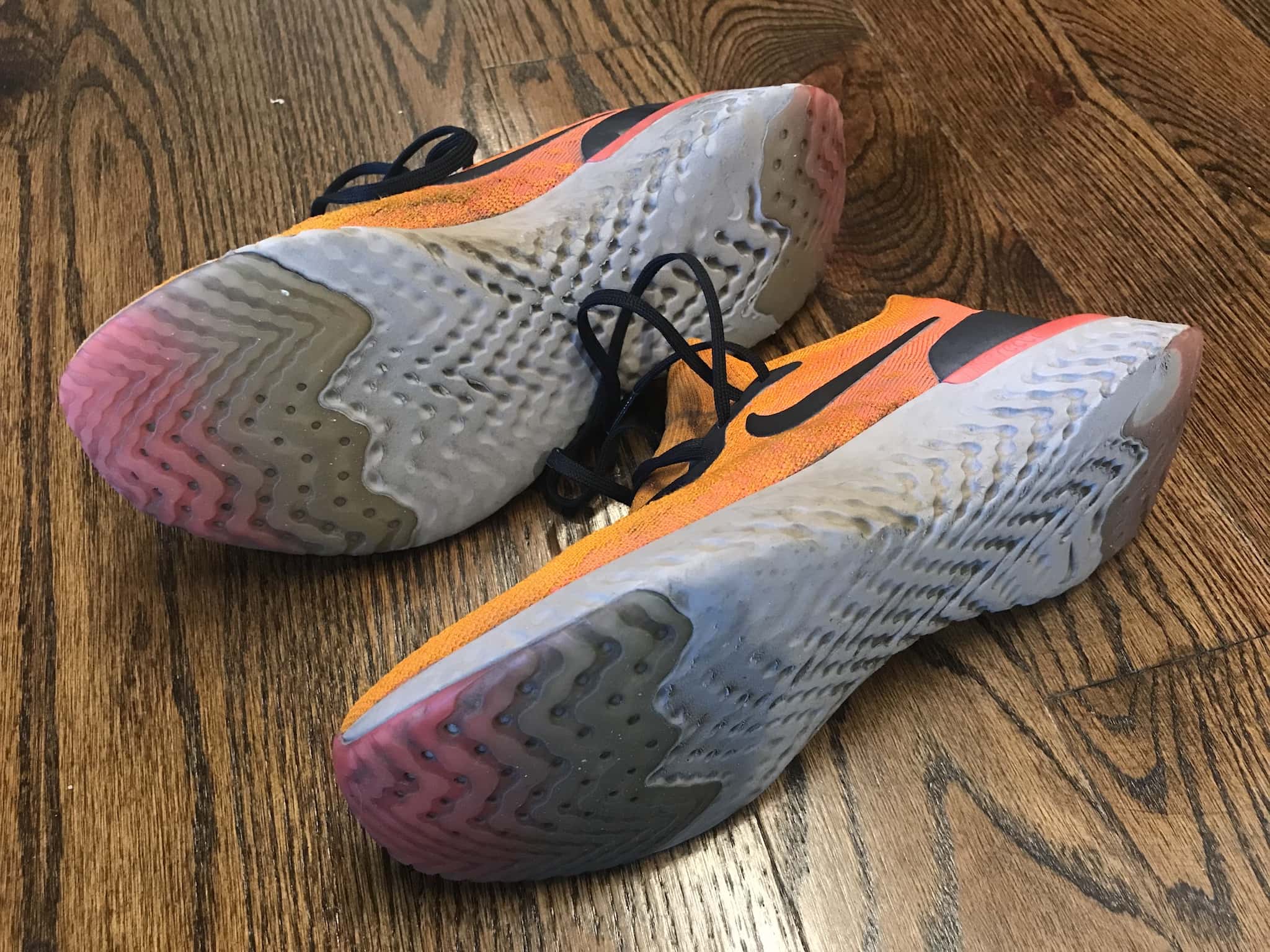 I haven't used it on wet or rainy days, so I can't judge what the traction would be under such conditions, but if I had to guess, I'd say it's probably pretty bad. That's not a problem for me, that's not what the shoe is designed for. The Flyknit upper would get soaked almost instantly. But on non rainy days, it never felt slippery.
Upper
This was not my first Flyknit pair, I had two prior to this purchase, the Zoom Fly Flyknit and the Vaporfly 4% Flyknit. This one feels different, a little bit tighter, but not too much. The fabric feels a little bit stretchier, making it a really snug fit.
Most of my running shoes end up with a big sign of wear above each of my big toes. I don't exactly know why, but I guess that I tend to flex my toes in a weird upward way that applies pressure to the inside of the upper and ends up rubbing against it. This is always the first spot that "gets used" on all my other shoes. The Flyknit material has been incredibly resistant, and as can be seen on the photo below, it doesn't have any holes in it.
I think I have slightly wider than usual feet, but the shoe was an almost perfect fit for me. My default size is 9 for regular shoes, read shoes I don't run in. But I always go for 9.5 (regular width) for running shoes. And my 9.5 Epic React is a tight, snug, fit, that makes my feet feel supported but not squeezed inside the shoe. Some of my previous shoes used to run against the outside of my pinky toes, creating painful blistery things on them. None of that here, perfect fit for me.
The Flyknit upper helps breathability a lot, which is great during hot, wet, New York summer runs.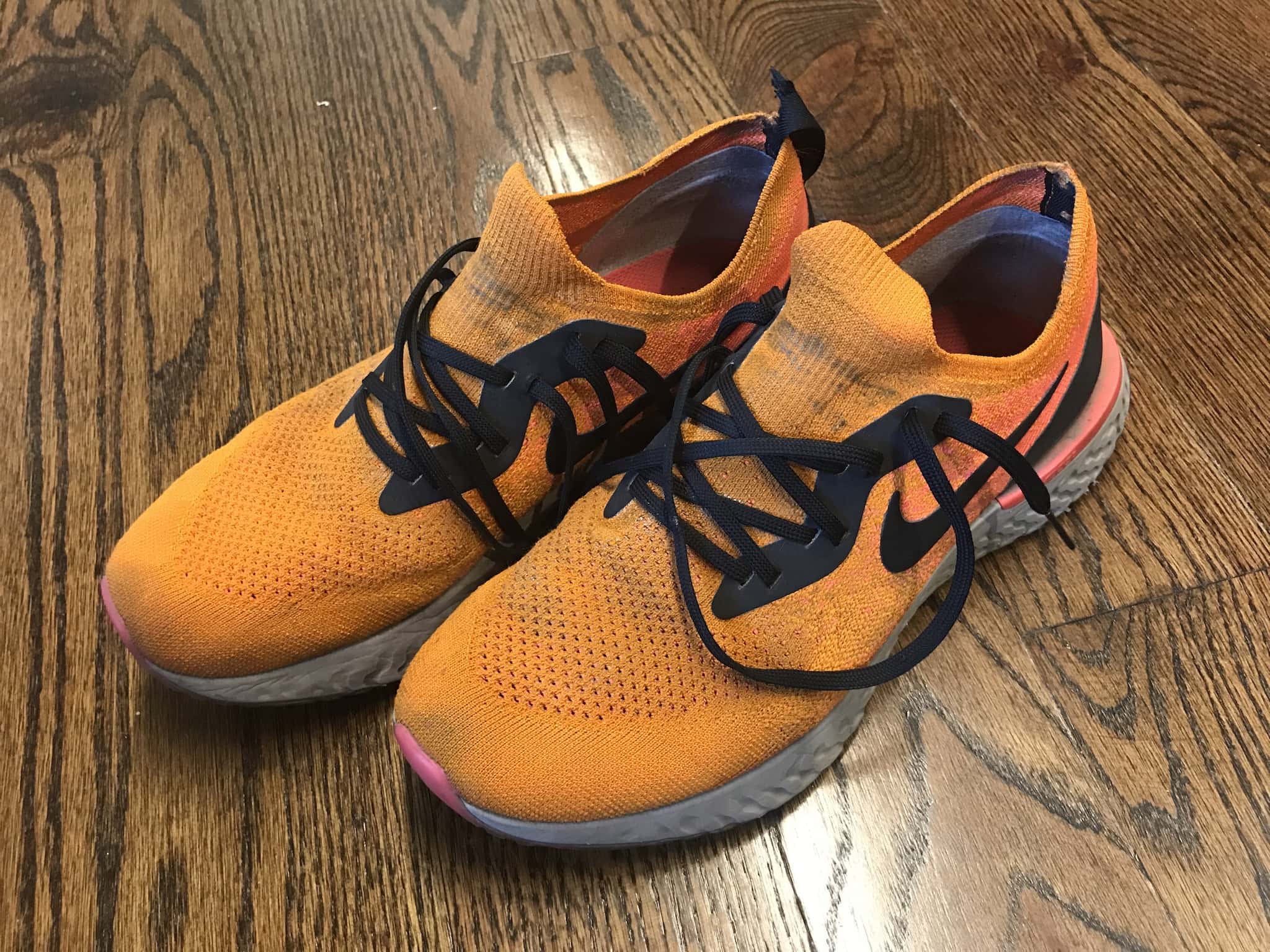 Conclusion
This shoe is as perfect as a shoe can be, if you use it for what it's designed for. This is not a super fast shoe, it is light, but many shoes are lighter. I would also not consider it a racing shoe, and I would run in it for long runs, for me that's more than 10ish miles, or 80/90 minutes. But as a versatile daily trainer? I'd use it every day. And I did. And still do!
I hate treadmill runs. Few things are more boring than a treadmill, but sometimes you don't really have a choice. Too dark out? Too cold? Rainy day? In a hurry? I'd rather hop on the treadmill than not run. And for these days, the Epic React has been my go to shoe. The softness of the outsole, mixed with the cushioning is somehow a perfect combination with the texture of the treadmill I use. There is something about the React foam that makes it a perfect match for treadmill runs. It just feels great.
I tend to categorize all my sneakers in two main categories, the ones I run in, and only run in, and the ones I wear casually, on a daily basis, to go to work and all of that. Once a shoe is in one category, I never (ok, almost never) use it the other way. The main reason? running shoes tend to be bulky, and let's be honest, often ugly, or at least uglier. Also, I tend to spend more on my running shoes, so I want to get the most mileage I can from them! That being said, the Epic React is one of these shoes that can definitely cross this line, I'd wear it as a "casual", non-running shoe, and many people definitely do. It does look really good. Given how durable they are, even someone as cost-conscious as me would do it!
Now that that second revision is the current version, you might have to go through a few different website to find a pair, but if you need an affordable daily trainer, get yourself one, you won't regret it!
I haven't established a rating system yet, but this would be as close as perfect score as it gets: A+, or, as we do where I come from, 20/20.