One Year Later - Nike Zoom Fly Flyknit Review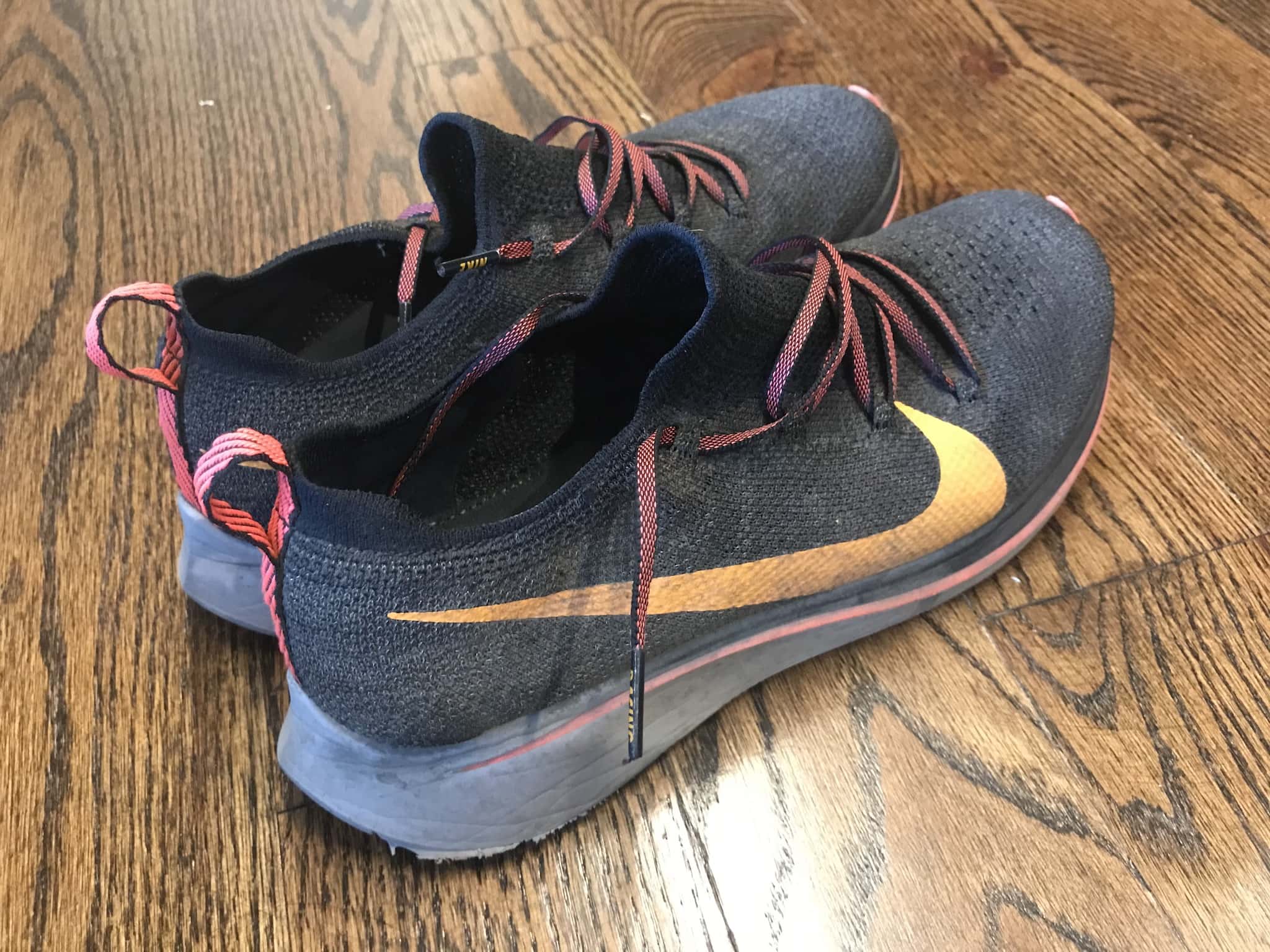 I succumbed to the power of Nike's marketing team when they released the second iteration of the Zoom Fly. That and also because at the time I was coming off of a great relationship with the initial Zoom Fly, which I had recently retired. As the second review in this series, this one is actually written after a year, even more actually, almost a year a half. Let's see if how it performed!
This shoe is a paradox to me. It both feels like not much changed and at the same time it almost feels like a completely different shoe. I love all the changes, and they managed to keep all the things I liked about the original one. The Flyknit upper is a great change, the carbon fiber plate makes you actually go faster and the thick sole provides a good amount of support for a pronator like me. I love this shoe for long Sunday runs. It is also amazing how durable the shoe is, which is a welcomed feature given its fairly high price point.
Sole
I really like the sole on the original Zoom Fly, it was thick enough to feel comfortable on long Sunday runs, sometimes up to two hours. And despite my tendency to pronate, it always felt supportive enough to avoid injuries. Speaking of injuries, I've been more or less injury free for the past two years. Except a really bad ankle sprain when attempting to play squash in October of last year, but this was clearly not related to over training, pronation or anything else a running shoe can have influence over. So yeah, I've been injury-free, ish, and I thank both Zoom Fly pairs for that, they have been my main shoes on long runs and have served me really well.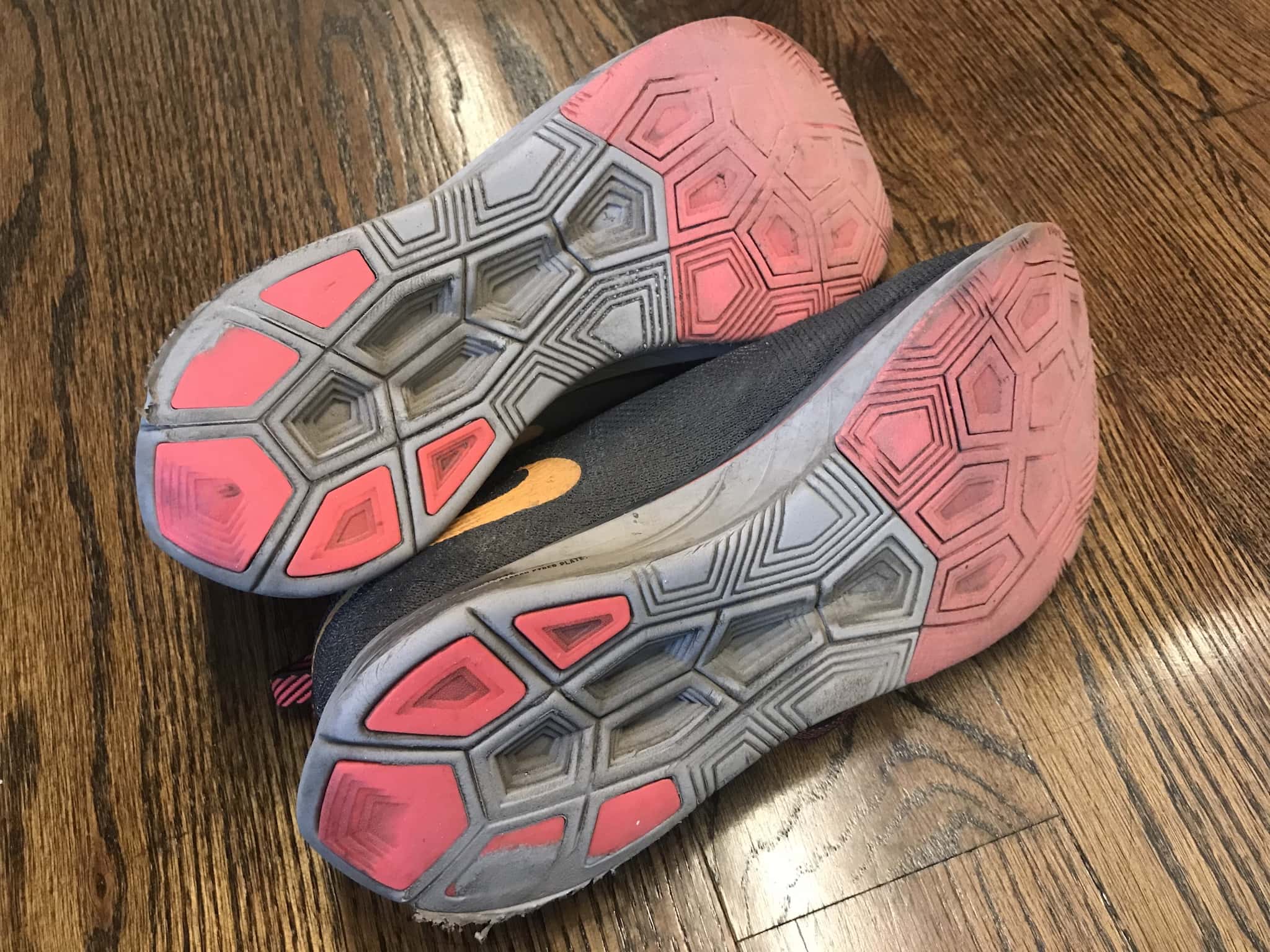 700 miles later, the sole is clearly used bot not done yet
The sole clearly shows signs of wear, as can be seen on the picture above, which is very similar to the initial Zoom Fly, but after 700 miles, I can't really complain, this feels better than most running shoes. I think I should be able to get at least another 100 or so miles in it before it actually start to become problematic.
The carbon fiber plate is awesome. I feel fast when I run in these. You really notice that the more you give, the more the shoe gives back, especially on longer downhill segments, when pushing up the pace. It's an amazing feeling. The shoe is light enough that even if you don't go hard, it doesn't feel bulky or heavy on your feet.
Upper
Nike has been been making Flyknit upper for a while now, but despite the number of Nike shoes I used over the years, this was my first Flyknit pair. The upper barely shows any signs of wear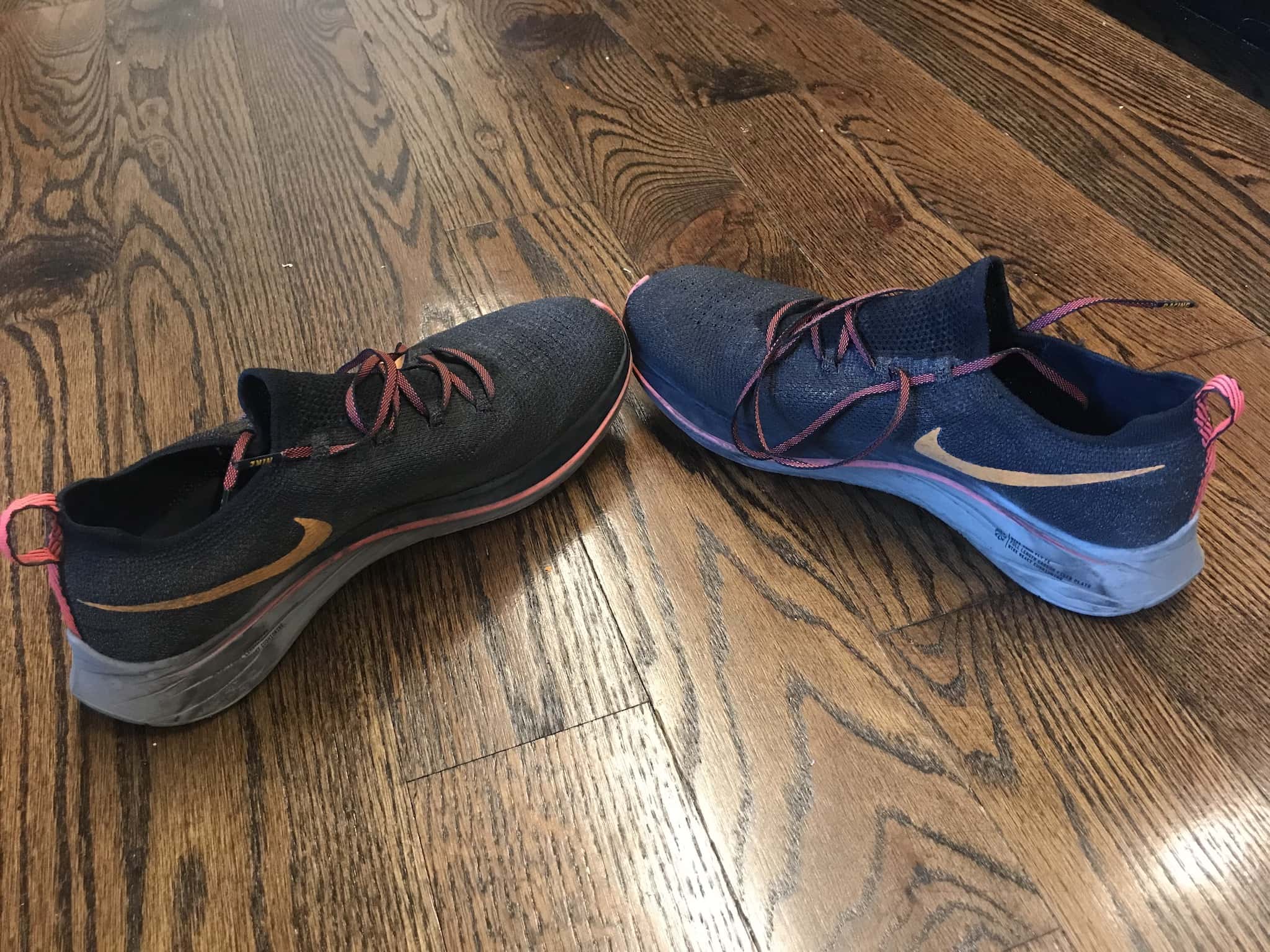 As explained in the previous review, most of my shoes end up with either a hole or a significant sign of wear and tear inside the shoe, above each big toe. But once again, the Flyknit material has been extremely resistant and looks almost brand new.
It's not my favorite Flyknit upper, I like the Epic React a little bit more, but it's still pretty good. Breathable for hot, humid, summer runs, but definitely not a good shoe for rainy days. That's not what Flyknit is designed for.
Conclusion
After a little over 700 miles of running with it, I don't think I'm ready to say goodbye to the shoe yet. Given how expensive the Vaporflys are, I only use them for races I really care about, and the one or two workouts prior to that, yeah, yeah, never try something new on race day, I know, I know. The Zoom Fly Flyknit is a great replacement for a very similar feel, not quite as light, but still very fast, good support for my pronating ankles, nothing to complain about. Now that the shoe is more than a year old, there are some really good deals out there, which is why I'm considering buying a second pair. Add to that how disappointed I was with the Zoom Fly 3 and this is almost a no brainer. But that's a topic we'll cover in another review.
It is not available anymore on the Nike website, but plenty of other sellers still have it in stock, and there are currently pairs at less than $90 on Amazon, highly recommend.
I am still in the process of figuring a good scoring system, but in the meantime, I'd give this pair an almost perfect score, 19/20, A, 95/100, pick the one you like