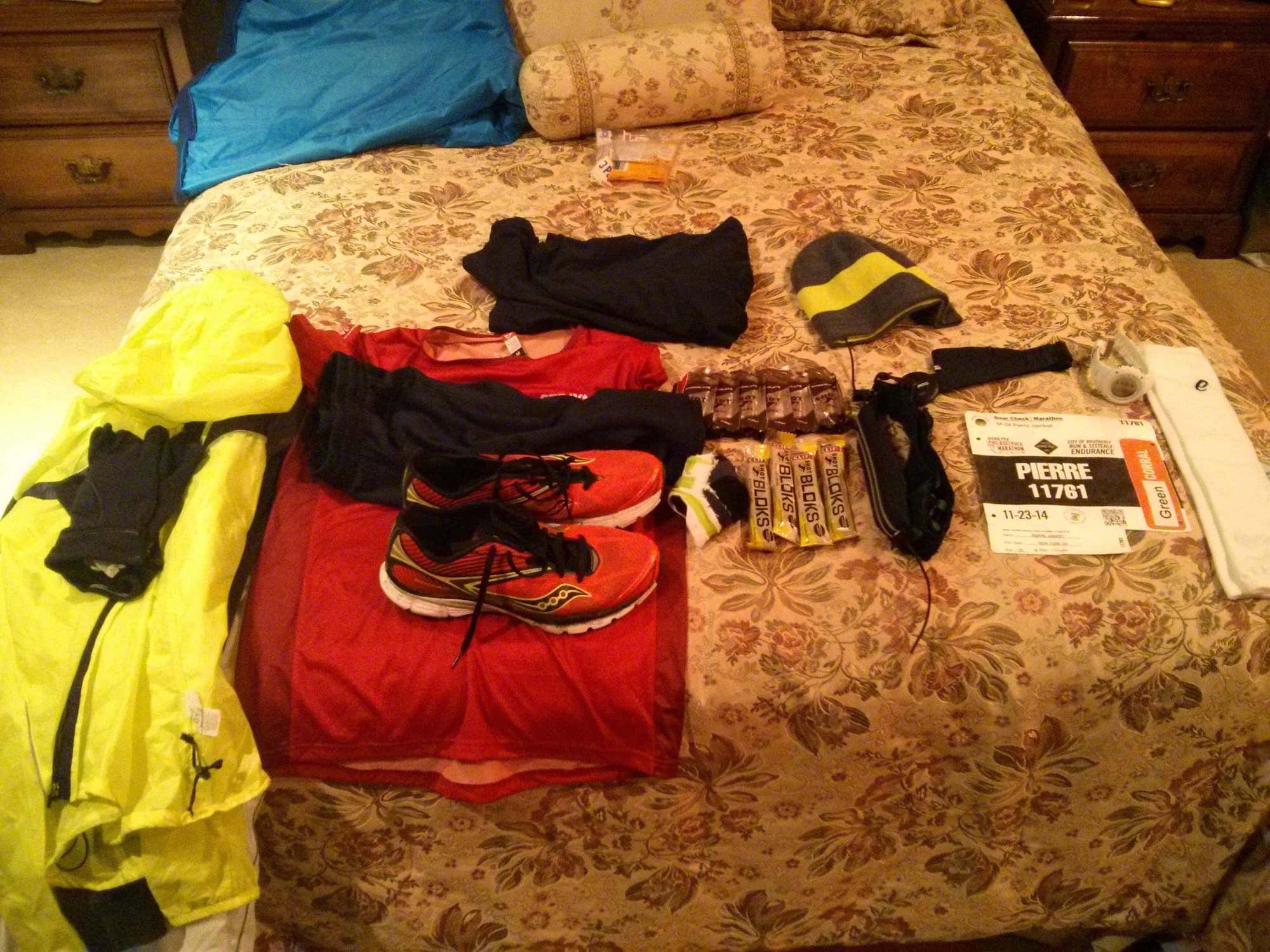 Finding a Marathon
After finishing our first races, I mentioned to my girlfriend at the time that running a marathon had always felt like a really cool goal, and that like so many other people, I really wished to run one once.
Soon after that she excitedly announced that she had decided to sign-up for the 2014 NYC Marathon, through one of the charity programs, she chose Fred's Team. It is a program to raise money for Memorial Sloan Kettering Cancer Center, her mom had successfully fought cancer a few years prior and the cause felt right to her. She now had to raise $5,000 to earn a bib and be at the start on Staten Island in November. I reacted internally with a mix of excitement and resentment. On the one hand I was obviously really excited for her, getting to run such an iconic race would be an amazing experience. On the other hand, I told her it was "my goal", mine, she didn't really mention having thought about it beforehand, and now she was going to do it. I felt blindsided. I wish I hadn't reacted this way, but sadly, I did.
Meeting the $5,000 threshold turned out to not be a barrier for her, but it felt like a lot for me, I literally didn't know that many people in the US, and it would have been a bit hard to ask friends and relatives in France to donate with the associated foreign transaction fees. I also didn't know if I could raise that much money, even if I convinced all the people I knew to donate, so I didn't even try.
Soon after that I heard about the Philadelphia Marathon, and I was able to get a bib, by "just" paying the entry fees, no lottery, no fundraising, a lot simpler! It was set for 11/23, three weeks after the NYC marathon.
Training with a goal in mind
We both picked a Hal Higdon plan, I can't remember for sure but I think I picked the "Intermediate 2" one. That being said, looking at my runs from July & August 2014, it doesn't look like I was following any plans really closely, except for the cross-training part, I had access to a stationary bike then, and was spending at least an hour on it almost every Monday.
Training through the summer went fairly well. She used to run with Fred's team a few times a week, and since I was not part of the team, I would do my runs on my own, usually alongside the Hudson River and in Central Park on the weekends.
This is also when I started a trend that still continues to this day, spending way more money than necessary on running related stuff. Through a small discount on Strava, I bought a Suunto Ambit2 R, with a chest strap for heart rate monitoring. A fancy watch would help me train right? Sure … 🙄
Another thing I started then and still carry to this day, stupid arrogance. In October I started doubting myself and was wondering what my marathon finish time could be, so I decided to run 42.2 kilometers in Central Park. I headed over to the reservoir, and ten-ish laps later, stopped when my watch clocked at 42.2, a few minutes under four hours. In hindsight, it was totally unnecessary, but it turned out to be a huge confidence boost. I had been wondering whether or not I could break four, now I knew I could.
I also got to experience my first group run. Fred's Team would organize a few group runs every week, in September they planned a 20-miler, from Central Park to Coney Island, and I was able to join. They broke us up in groups by different paces, I had never measured my pace in minute miles, I only knew my pace in minute kilometer, I had no idea who to go with, I think I ended up in the nine minute mile group. Putting aside a small bowel accident early on around the Chelsea area, and I am still thankful for this random porta potty I stumbled upon, the run was amazing. About three hours later we made it to the boardwalk. Having people to run with, and chat with, was such a great way to not get bored while running. I don't know why, but I didn't try to repeat it, and despite this great experience, continued running alone for a few more years.
The NYC Marathon, as a cyclist
A few races later, including a really fun weekend in Philadelphia for the Rock'n Roll 5k and Half Marathon, I spent all of November 2nd riding over NYC. It was obviously not nearly as exhausting as actually running the Marathon, but pretty close if you ask me. We had spent the night at a hotel in Time Square, one of the perks of running with Fred's Team. I can't remember what it was but we realized that we had forgotten something at our apartment, so I jumped on a cab went there and rode my bike back to Time Square, so she could pack this forgotten item before hoping on a bus to Staten Island. That was around 5am, I then rode back home, took a quick break, while watching the pros start on the TV, around 9am, and rode all the way to Brooklyn around 11am, while tracking her on my phone. I was able to find her, but the problem is that for most of the course you can't ride alongside the runners. My strategy was to find a spot, wait there, cheer, go back a block, continue parallel to the course for a few more blocks, enough that I would get there before her, wait, cheer, repeat.
Around the Williamsburg area, she told me the wind was blowing up her bib and that she needed more safety pins, I rushed to what looked like the closest CVS alongside the route, ended up across the Williamsburg bridge in Lower East Side, then rode all the way to 1st Avenue and caught up with her there, only to hear that she had found another way to deal with her bib. No safety pins needed.
I didn't really get to stop and eat through the day, my nutrition consisted mainly of a few Clif bars. These are good, but when it's the only thing you eat all day, you get sick of it, real quick.
Once the race was over and we were back home, we realized that we couldn't find her GPS watch and upload the run to Strava. Would this whole day have been for nothing? Hitting pause for a second here, it makes me really sad that this was a thought, after all, if you're running a Marathon, does it have to be uploaded to Strava to count? My answer is a clear no, but I also understand how it can feel comforting to have a Strava activity that people can add Kudos to and comment on. A few phone calls later, we confirmed that the watch was accidentally left at the hotel, she was exhausted, I went to hotel, got the watch and got home, for good this time, around 11:30pm.
After this very long day, I told myself that one day, I would run this marathon. And for a reason that I can't explain, told myself that my goal would be to qualify for Boston when doing so.
Three weeks later, we went to Philadelphia for my Marathon. I had lightly sprained my ankle about a month before, on a dark evening run, and my ankle was still hurting a lot if I tried to move my right foot inward to the left or outward to the right, but I was still able to run as long as my right foot was staying aligned with the rest of the leg.
My main goal was to break 3h45, given that I already knew I could break 4, but deep down, I really wanted to break 3h30.
The Philadelphia Marathon is an interesting course, given that it's both a half and a full. The course is shared on the first half, thirteen miles in, runners going for the half make a right back to the finish line, runners going for a full head left, alongside the Schuylkill River, for an out and back.
The race went really well overall, except for a quick porta potty break around mile 9, number one, not number two. The training plan had prepared me really well. I did not grab a beer in Manayunk, as much as I usually love beer, drinking one around mile 20 felt like torture.
The last six miles were really hard, mainly because the last six miles will always be hard, regardless of the course, but the out and back format made it really demoralizing for me. Running the same course, but the other way feels … boring for lack of a better term.
I barely remember the end of the race, but I do remember the sense of relief seeing the Philadelphia Museum of Art, the cramps threatening to hit me every time my heels were hitting the ground, but I made it way under my target time, in 3:26:58. I'm the one in the red shirt, I don't think I had enough energy left to raise my arms.
Both goals achieved.