Review - Elite Ultra Light & Merino 10 Cushion Feetures Socks
I don't see enough socks review, and socks are often overlooked when talking about running apparel. Shoes, shirts/tank tops, shorts and everything else tend to get more attention.
But, as someone who is prone to blisters, having good socks helps a lot. And whether it's on a cold wet day in January or a crazy hot summer day in August, having socks that stay dry, ish, is something I'm not willing to give up now that I've tasted it.
This is a double review, of two different pairs of Feetures socks. I purchased both almost a year ago and while I don't keep track of which socks I wear on my runs, and therefore can't accurately say how many miles they've been through, the answer is "a lot". At least for me, very likely in the hundreds of miles for each pair.
Both of these pairs are among the most expensive socks I've ever purchased, so let's see how well they did, but first I'll just say that both are really snug and comfy and were really good at preventing chafing and blisters.
Feetures Elite Ultra Light No Show Tab Socks
I bought them on jackrabbit.com, for $15.99 + tax, you can also find them on Amazon if you have prime and want to avoid shipping fees.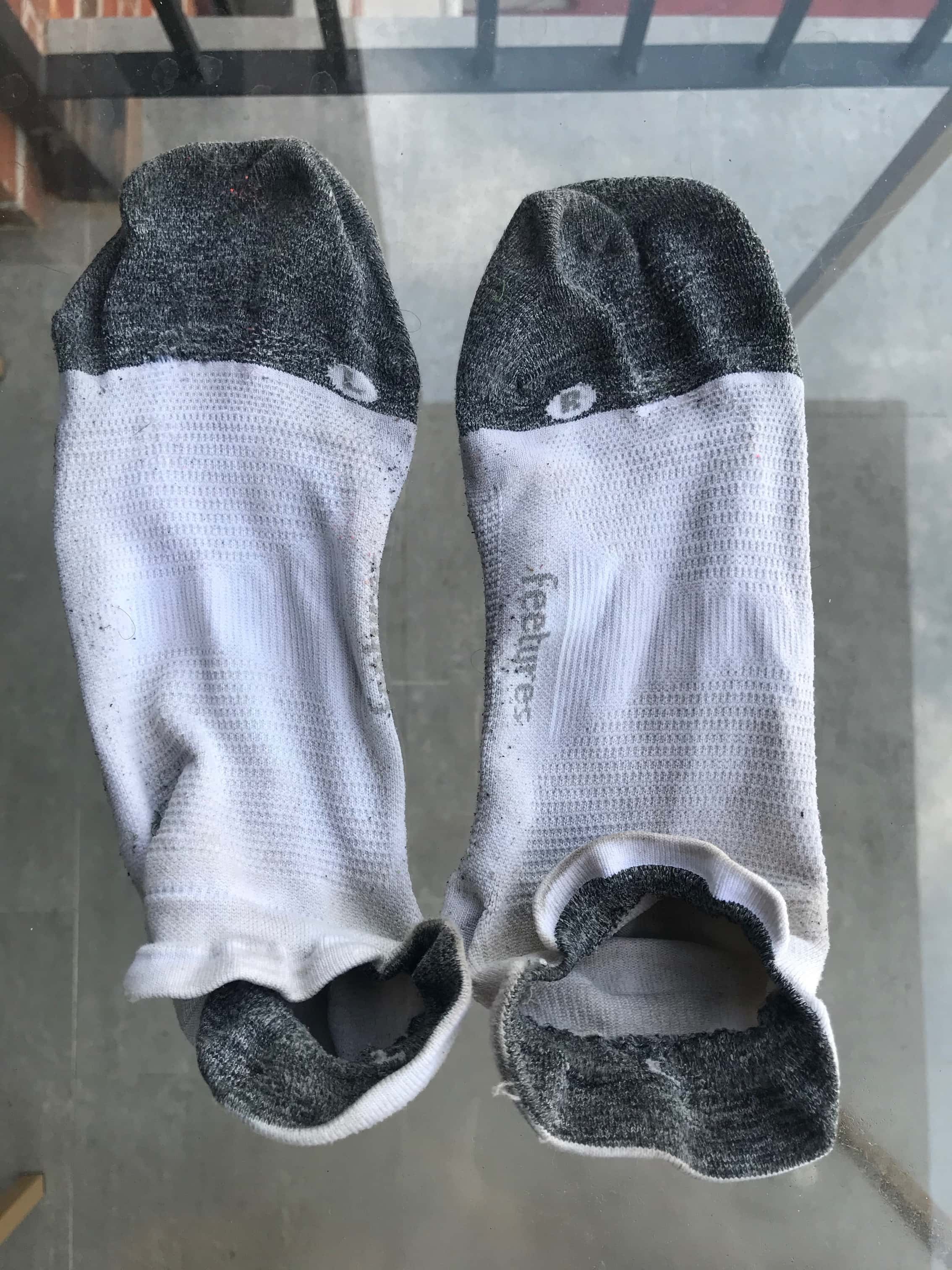 As you can see on the photo above and the one below, there's not many signs of wear and tear, and overall, the socks look like they will last for a while.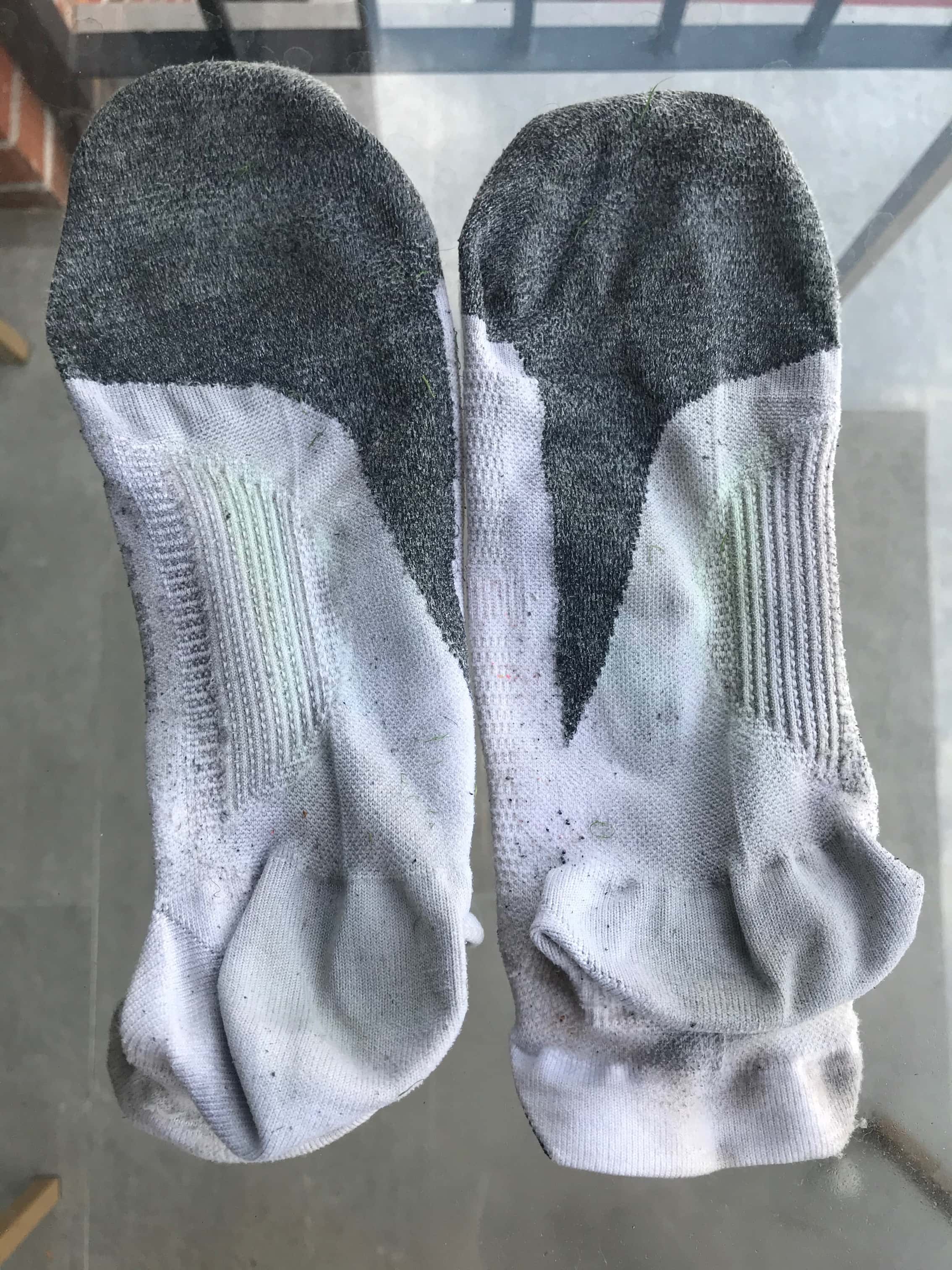 One of the most common issues I have with running socks is when a small hole starts above the big toe area. My guess is that I very likely tend to flex my toes while I run, applying some pressure to the sock.
But, nothing to worry about here, all good!
These socks are definitely warm weather socks, they have "ulra light" in the name, and that's not an overstatement, they are light. They are also very snug and very comfortable, unless they're in the hamper waiting for the next round of laundry, these are my go-to socks.
Unless it's an actual downpour, they've never felt wet at the end of a run, even with 100+ degrees days last summer. Worth every penny, highly recommend.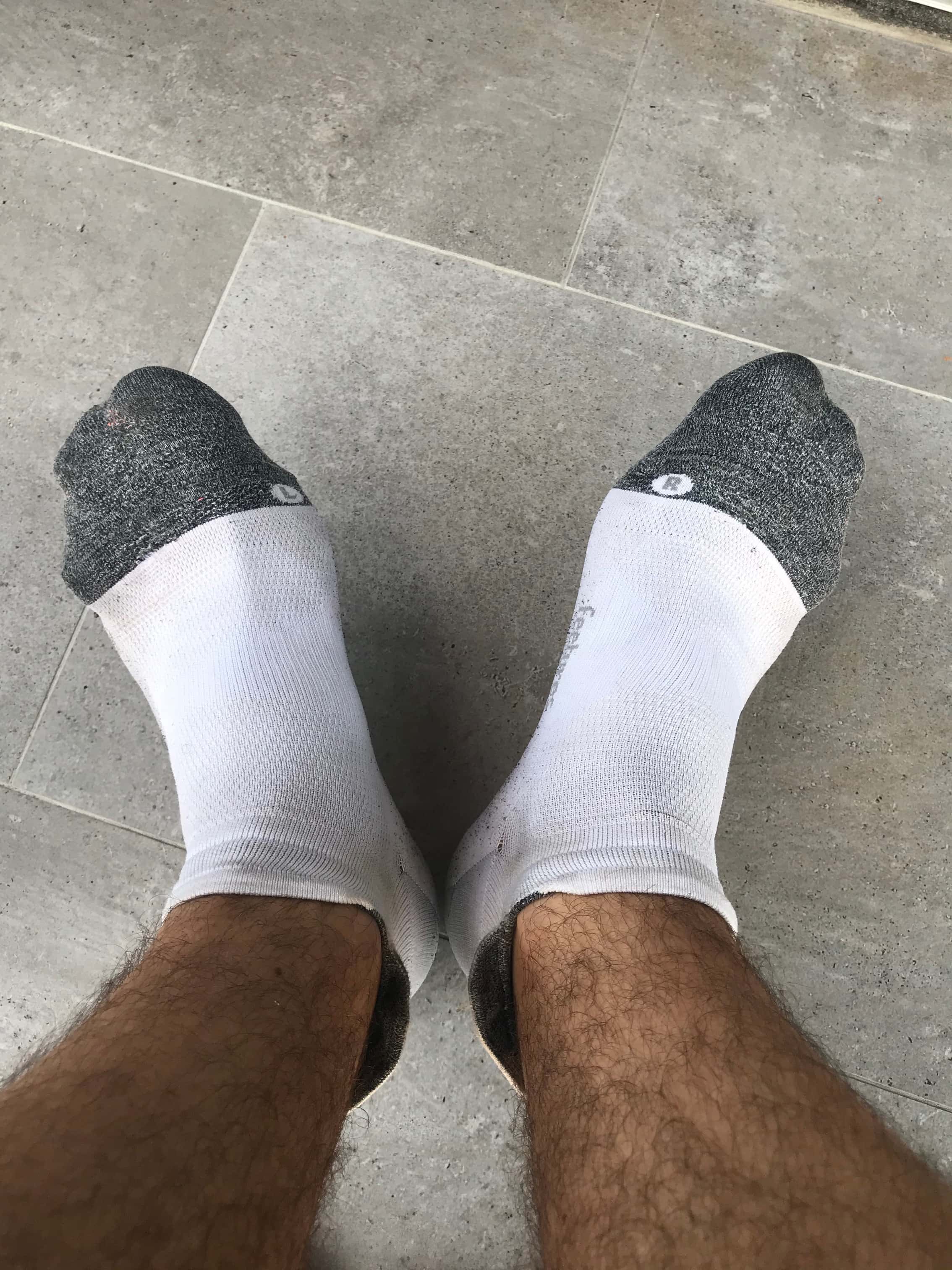 Feetures Merino 10 Cushion No Show Tab Socks
I also purchased those on jackrabbit.com, but these were a bit more expensnve, $17.99 + tax, they don't seem to be available there anymore, but you can still find them on feetures.com, and, like the pair above, also on Amazon.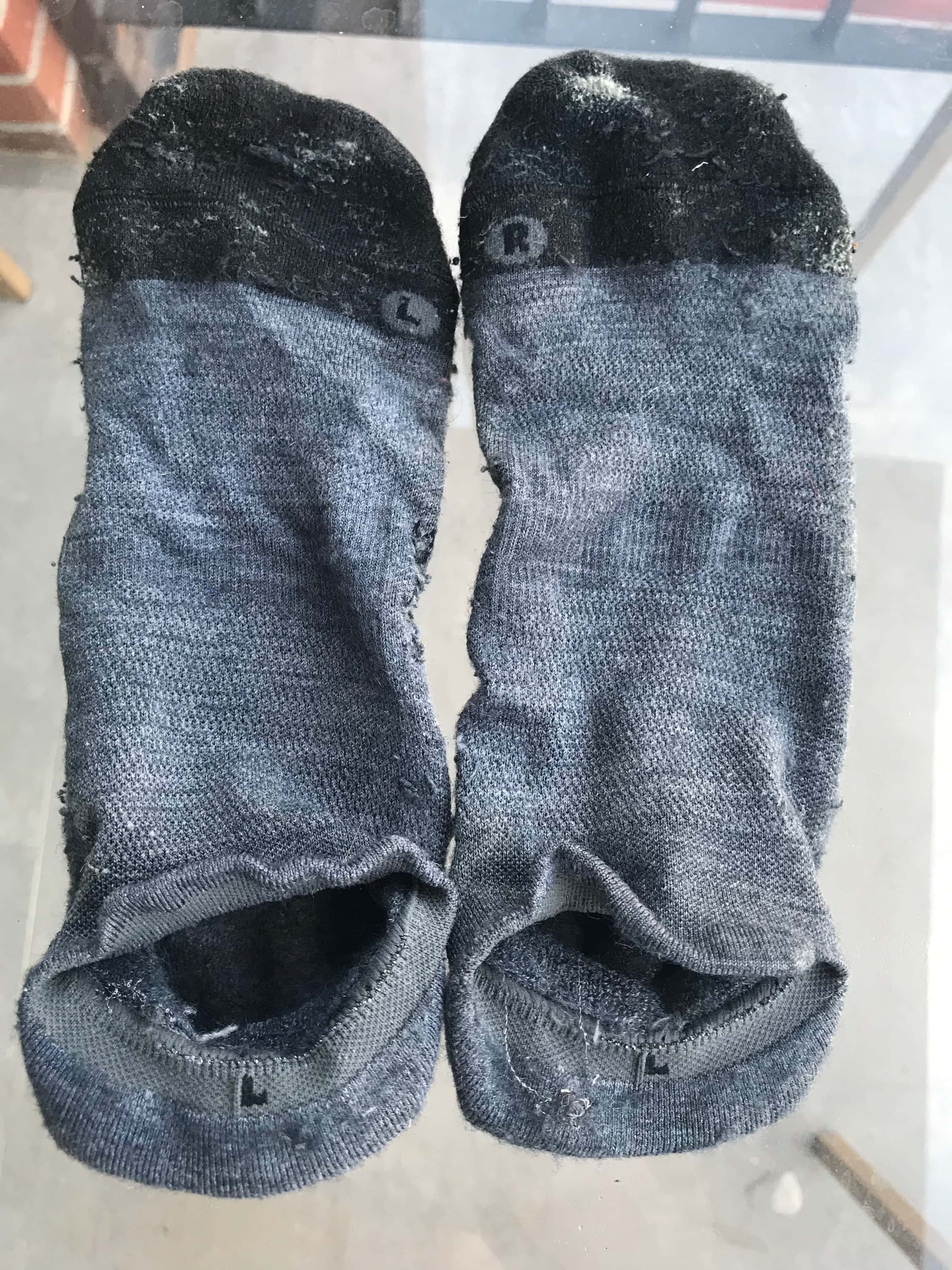 These are almost the opposite of the pair we just looked at, they are built for cold weather, and they're thick. The name could have included "utlra" before "cushion", because they are very cushioned. To the point that if your shoes are already a little bit tight, that could potentially be problematic.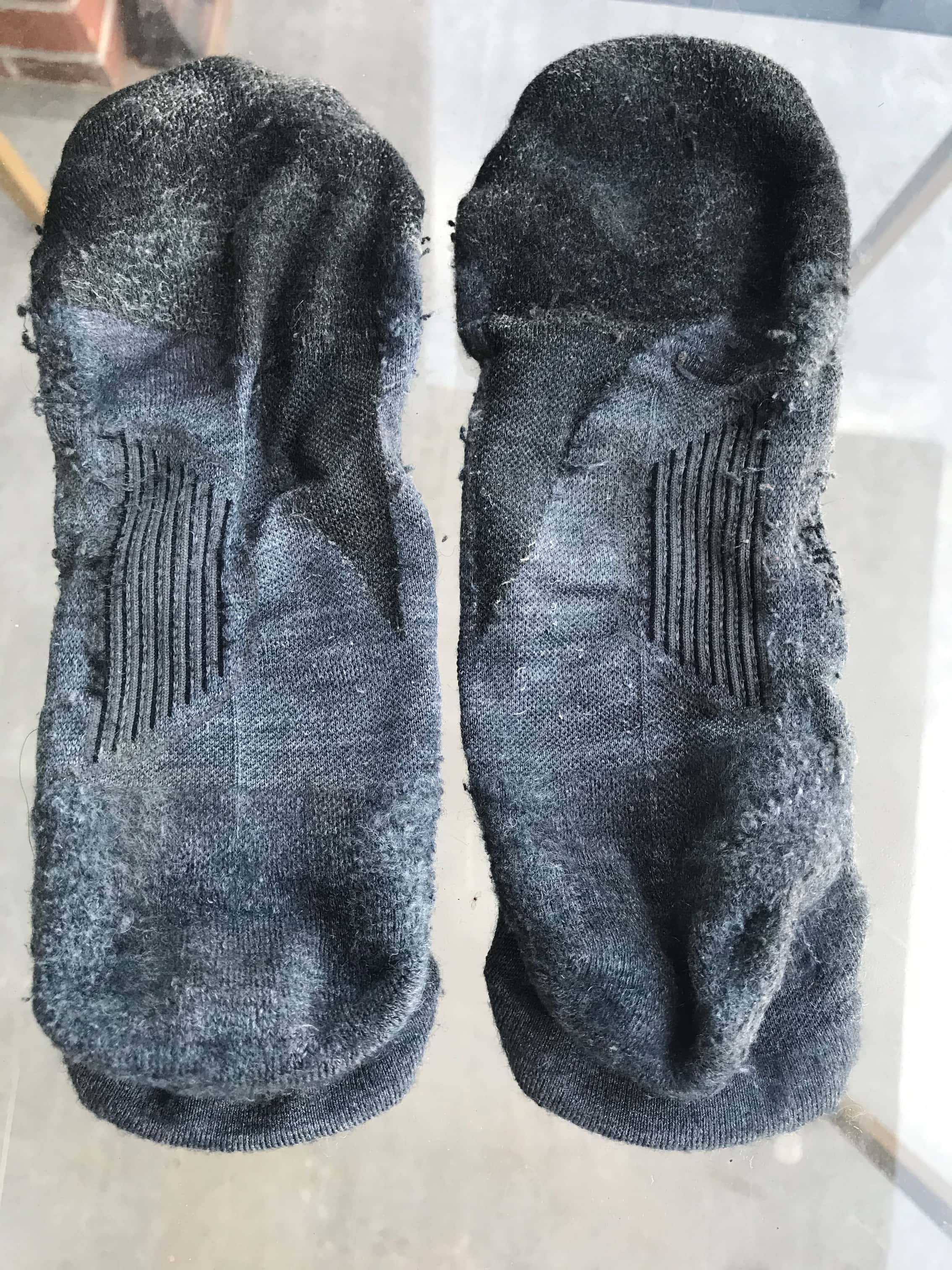 Even though the fabric is different, I've also never had issues with those, the merino wool does wonders, and they alway feel dry, while keeping your feet warm.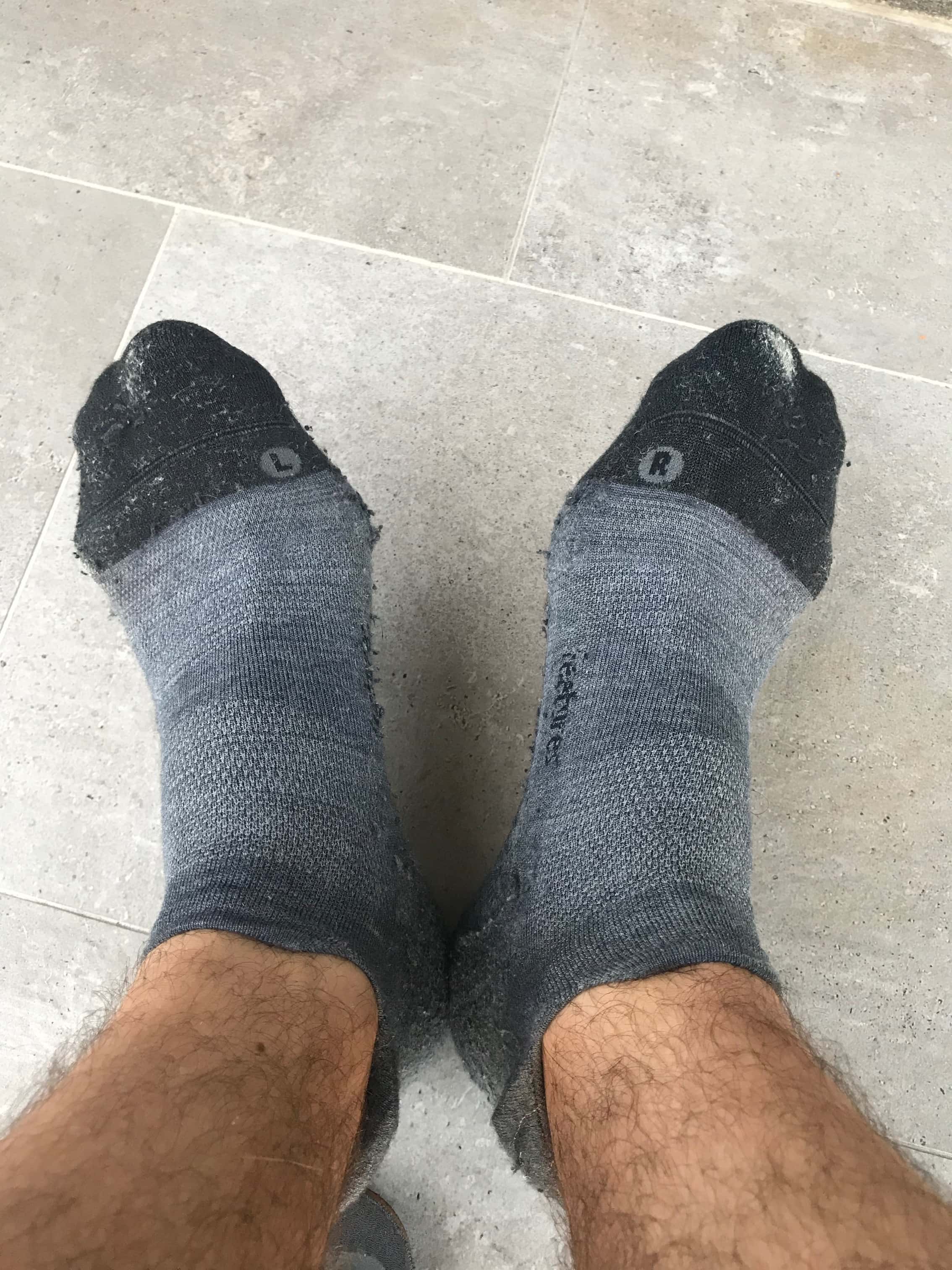 As you may have noticed on the photos above, durability wise, there seems to be a few questions compared to the previous pair.
First problem, the fabric started to create these little fuzz balls, for lack of better terms, and overall the socks clearly feel used, like they're probably not gonna last through a second winter.
But more importantly, as you can see on the right big toe, there's a white-ish patch, that's the fabric about to give up and let my big toe go free, aka, there will very likely be a hole in a matter of weeks after I start wearing them again.
Conclusion
I'm not going to try to give these a rating, instead, I will give you a recommendation:
Feetures Elite Ultra Light No Show Tab Socks: BUY! If you have enough money and are looking for a good pair of summer socks, these are perfect, probably the best pair I've owned in this category
Feetures Merino 10 Cushion No Show Tab Socks: Ugh, probably not. I like them, but for $17.99 (PLUS TAX), not lasting more than a season is almost a no-no. So, I'll leave that up to you, and maybe if you don't flex your toes like I do, they will last longer.